Win a Scotty Cameron Putter of your choice!
Hello DuoTrac Ambassadors!


We are running a contest in which you can win a Scotty Cameron Putter of your choice (5 styles to choose from).


Follow these simple rules to be considered:
Follow us on Facebook (@DuoTracSports), Twitter (@DuoTrac) and/or Instagram (@duotrac)
Post a picture of you training with your DuoTrac on Facebook, Twitter or Instagram.
Tag us in your photo and use a hashtag #myduotrac in your caption
Comment "Done" under this Facebook post or send us a link to your post at support@duotrac.com
We will announce our lucky winner on July 21. Don't be shy, we are excited to see YOUR game!
It's Time to Ship ---June, 2017 
We are ready to ship out DuoTrac to our patient and dedicated backers, supporters and customers. It has been a marathon effort to create the first body and club motion tracking system in any sport. We thank you for sticking by us so we can deliver you the product you have been waiting for. You will be emailed a tracking number this week. 
DuoTrac 2.0
DuoTrac 2.0 is a significant upgrade from our initial 1.0 release:
Design:
 lighter and streamlined.
Performance:
 latency reduced to 1-2 seconds, increased battery life (up to 6 hours), and increased data accuracy.
Connectivity:
 Bluetooth 4.0 connects seamlessly with your smartphone and ensures steady, accurate data transmission. Use your sensors anywhere on your iOS or Android device.
Full Technical specifications for DuoTrac 2.0:
At Coach Labs we've been refining our flagship technology over many months. The DuoTrac 3 sensor system is a more advanced version of our 4 sensor kit. We've removed what was slowing us down, and enhanced our system to include just the essentials in training and performance. 
>
The higher performing DuoTrac 2.0 system provides reduced latency, speed, increased accuracy and a lighter, more durable design. DuoTrac 2.0 enhances the key features of our original product for an immersive & lightning fast player experience.
Coach Labs has some new and exciting developments. You might have seen our new products on www.DuoTrac.com. Please know that we have not forgotten our backers & customers who helped make DuoTrac a reality. We can't wait for you to receive your product & to get your feedback on the new DuoTrac 2.0.
To stay updated on announcements, future product releases and App updates please subscribe to our newsletter at DuoTrac.com
Thank you for continuing on this journey with us.
The DuoTrac Team
December 16, 2016 - Special Update
We've brought on a PGA Head of Instruction, Tim Leible to provide you with training tips and drills. It's like having your very own PGA Instructor.

Click on the video below to see Tim's product testing in action. We've undertaken our extensive product trials in a variety of environments to ensure connectivity, accuracy & speed.

We'll be reaching out to you directly to make sure we align Tim's expertise with your needs. Stay tuned for regular video tutorials, and Q & A sessions. It's part of our ongoing commitment to see our DuoTrac community members continually enhance their performance.
We're gearing up for the 2017 PGA Show, January 24th through the 27th. Our Director of Instruction and the entire DuoTrac Team will be holding live demo's, instructions and presentations at the stand.
 
Come and visit us at Booth #1289 to test your skills and receive tips directly from our in-house PGA pro! Meet Curt Menefee as he comes straight off NFL's NFC championship game.
October 27, 2016 - Hardware & Software Updates to Give you a Superior User Experience
Hey Golfers!
The development process is a marathon – and with most products, it's hidden from you. For instance, Apple worked on the iPad for 8 years before it was released! But thanks to our updates page, the ups and downs of our product development are open for you to see. By following along with us, we hope you've gained a new appreciation for the effort that goes into any manufactured object.
The last mile has been a tough one, but we're still going full-steam ahead. We are doing all we can to ensure we ship the most superior product possible. This includes:
Upgrading the antenna to a stronger chip antenna & tuning the frequency to provide us with maximum efficiency.
Build of each sensor board comprised of 37 individual parts.
Upgrade to our proprietary crystal quartz to improve performance of the sensors upon impact.
For all those who geek out on wearable technology just as much as we do, here's an insight into how all of these components come together.
Each part comes into the factory on reels similar to 8mm movie film.
The parts are sourced from a variety of specialized manufacturers.  After the parts are loaded onto the board, they go through an oven that solders them in place.
There are two brains on each sensor board.  One brain measures all of the aspects of the swing, the other brain controls communication with the app on the phone. They need to work in absolute concert with one another for the entire system to be effective.
These brains are managed by our proprietary DuoTrac software.
Updating the DuoTrac experience quickly and often is in DuoTrac's DNA. DuoTrac Golf continues this tradition with a steady flow of new features to watch out for:
Player Score Summary - tracks each swing and compares your history to track your progress in real-time. 
Club Path - tracks the club path before impact to identify where you are losing power.
Tempo – tracks the tempo of your swing to improve your consistency.
Now that DuoTrac's core software is complete, these new features are our next big priorities. We'll post regularly on our progress on this front. Delivering on any big feature takes time, but – like all good things – worth the wait.
Tell us what you love now and what you want to see next. Send us your ideas and suggestions by filling out our survey here. 
The DuoTrac Team
September 9, 2016 - DuoTrac Golf Android App Now LIVE & Latest Product Development
Hey Golfers,
There's an exceptional amount of human effort that goes into making a disruptive product that changes the course of technology. Developing and constantly testing our theories is an art form and modern day miracle. We hope that our updates on the process convey this.
Last update we mentioned that the DuoTrac sensors we received and deployed had some unacceptable radio frequencies competing with other Bluetooth signals affecting the sensors. As a result, we underwent a grueling rapid modification of the sensor hardware – extending the antenna range to increase the signal strength. Getting the DuoTrac sensors' connectivity to our target levels has been one of the biggest technical challenges we've faced. This modification process takes about 3-4 weeks each time. See the results of this initial antenna modification.
This is not easy or cheap, but as you've guessed by now, we chose quality over speed. The good news, after all that work, is that we will have sensors that won't encounter competing radio frequencies and have a significantly more stable connectivity.
As our hardware is being modified, our firmware engineers in India have made some significant breakthroughs! As you all may know, Jason, our CEO, personally flew overseas to India to oversee the final testing and code development of the product. We felt as if our sensor readings were accurate, however, our latest firmware advancement utilizing quaternion and sensor fusion makes DuoTrac the absolute standard for instructional technology.
Our sensors have three vital components: gyroscope, accelerometer, and magnetometer. Each sensor has its own set of strengths and weaknesses. Gyroscopes have no idea where they are in relation to the world, while accelerometers are very noisy and can never provide a yaw estimate. So what that leaves us with is a gyroscope that responds quickly, but drifts over time and an accelerometer that responds slowly, but becomes more accurate over time. The idea behind sensor fusion is to take readings from each sensor and provide a more useful result by combining the strengths of each component. As a result, the additional data points we'll receive are gravity, linear acceleration, orientation, rotation vector, and quaternion.
Quaternion is the most accurate and efficient representation of rotation and motion, making DuoTrac highly useful in gaming and simulators. While Trackman and Foresight have been the market's basic standard of simulators and training, with sensor fusion and quaternion, DuoTrac has become the next evolution of simulators, but now portable, more reliable, and cost-effective.
We've started the process of combining gamification and game improvement of DuoTrac through our portable sensor simulator technology where you can compete with golfers around the world. More on this in our next update.
Around this crazy schedule, we've officially launched our DuoTrac Golf app on iOS and Android! If you haven't done so already, go to the Apple Store or Google PlayStore, download the app, and get a sneak peak of how the app works by simulating golf swings and receiving how to fix tips, no sensors necessary! Enjoy the seamless and delightful experience and let us know what your thoughts on the app are.
We're excited about how revolutionizing DuoTrac is becoming with each new iteration, bump, and bruise we encounter along the way and we know you are, too. Do not hesitate to email us if you have any questions about the technology, but please keep in mind that our schedule update is a roadmap and we'll be releasing more info over time regarding shipment fulfillment. Please try to minimize requests for ship dates as we will reach out to you as soon as we're ready. All backers and pre-sale customers will receive a One Month Free Subscription to our upcoming game. We can never say it enough: thank you for being such an amazing community of golfers, sports and tech enthusiasts!
DuoTrac Team
August 24, 2016 - DuoTrac Golf iOS App Now LIVE!
You've all been patiently waiting for the DuoTrac golf app to launch and the day has finally arrived!
We're extremely proud to announce that the DuoTrac golf app is now live for iOS on the Apple App Store. Android has taken us a bit longer as we've added some additional How To Fix tips and drills, but we're expecting it to also go live very soon. The app features a free demo (test drive without sensors), swing correction tips & drills, goal settings, customizable training notifications, and more! We've made it easier than ever for you to track your performance and establish your strong and weak points.
The DuoTrac app is a centralized improvement-driven location with actively curated tips and fixes that bring you the best solutions and ways to lower your handicap with actionable insights with each and every swing.
Download the new DuoTrac app for iOS today! We're still working on additional weekly feature releases for the app, so stay tuned – it's coming very, very soon! When you get your DuoTrac golf 4D kits, be sure to download the latest DuoTrac app release. We'll be uploading new versions regularly.
Hardware
After testing the batch of DuoTrac kits we received and deployed, we noticed that there were many radio frequencies competing through the Bluetooth in multiple environment settings affecting the sensors. We're modifying the sensor hardware to extend the antenna range to increase the signal strength. However, the supplier promises delivery of more updated DuoTrac kits in a few days. We are trying to minimize the wait as much as possible. We have equipped our departments with more staff members and within the next few days we shall resume dispatching deliveries.
In the meantime, simulate swings without sensors in the Free Demo section of the LIVE iOS DuoTrac Golf app and let us know how you enjoy the Free Demo, How to Fix, and Drills portion of the app if you haven't received your sensors. Let us know what you'd like to see next!
 Also, check out the DuoTrac Getting Started video!
August 5, 2016 - Firmware, App, and Shipping Update
Hey Golfers!
We try to be pretty transparent with how things are going with DuoTrac. After all, we're in this together. Your support and enthusiasm coupled with our daily effort are steadily bringing DuoTrac to completion.
Since our last update, we've been working as hard as ever! Amidst testing sensors, writing software, and juggling the many tasks involved in starting up a business, we've been neck deep in the manufacturing process. We've now got a heap of things to share with you.
Our Updated Schedule
DuoTrac units are going out in stages, so don't fret if you haven't heard from us yet. We had a new batch of DuoTrac golf orders arrive our offices July 28th and shipping confirmation emails are starting to go out. DuoTrac users have already reported a few minor issues that we're working to solve. Our engineers are working on the fixes and will release a new build early next week to officially go live the week of August 15th with both Android and iOS. As soon as we have resolved these user issues, we'll send the latest firmware update to our factories to load them into the DuoTrac sensors.
Our production line is humming along. It takes about 3 weeks for a single DuoTrac kit to be manufactured, assembled, boxed up, and shipped to our distribution center, so it's taking us a little while to iron out the whole process. We appreciate your patience while we slowly ramp up production to make sure each DuoTrac golf 4D kit meets a high production quality.
Firmware
We humans implicitly understand when something is shaking or sitting still, but to an electronic device, it's all just a rapid stream of numbers that represent force. So we have to figure out exactly what pattern of numbers represents what a swing looks like to our sensors and this is no small feat. Since our last update, we've had to rewrite the firmware twice. We noticed that some devices connect perfectly fine, while others need some extra troubleshooting which is what we have tackled. We are expecting a new build next week, but firmware updates will happen through the app as necessary.
Our engineers have been managing sensor readings, writing a lot of this all from scratch. Lately, they've been fixing the bugs that field-testing shook out. DuoTrac will keep getting better even after it ships thanks to over-the-air updates, but that depends on first having rock-solid communication.
DuoTrac Firmware Update Mode
A Blue LED light indicates that a firmware update has been initiated. Once complete, a Green LED light will reappear.
DuoTrac Battery Status
Once the sensors are fully charged, the Red LED light will disappear.
DuoTrac Golf App
The DuoTrac Golf iOS App and Android App are not yet available in the App Store. We've already submitted and been approved by Apple and Google, but have not gone live yet while upgrading our app features. For the moment, iOS and Android users who receive DuoTrac early will be able to charge their sensors and prepare for use. The app is available exclusively to those who have already received their sensors. You will be able to download the app even before we go live and it appears in the App Store or Google Play Store.
Keep your eyes peeled for updates to the DuoTrac golf Android and iOS apps. Please send us your support requests and keep us informed about the bugs and other problems you may be facing. We will be rolling out updates to fix issues you may be experiencing.
For now, our primary task is shipping out DuoTrac and providing constant technical support. Things are happening fast now, so we'll be updating you about your order shortly.
See you next week!
Team DuoTrac
July 6, 2016 - Schedule, Shipping Update, and More
Hey Golfers!
We're working around the clock to produce and distribute all our pre-ordered DuoTrac units in just a few short months. We've had to modify our original design for mass-manufacturing and, at the same time, balance additional features with our tight schedule.
We wanted to have the DuoTrac kits out to all of our customers by the start of the golf season, but more than that, we want to ship the best DuoTrac kit possible. In order to accommodate the required changes, new features, and manufacturing duration, we have had to shift our ship date.
We're putting the finishing touches for the first edition DuoTrac kits now and are vigorously prepping DuoTrac versions 2.0 and 3.0, trying to squeeze in a few key features without delaying any further. We want to nail down every last detail before announcing any specific ship dates.
Our Updated Schedule
We expected to begin shipping out all units last week, but after a few weeks of field testing, we noticed that our sensors were too sensitive and had to dial down the initiation for actual swings. As a result, we've had to rewrite our firmware so that the sensors don't engage with outside forces. It is our duty as the forefront of multi-point, motion-tracking sensor technology to provide only the most accurate and highest-quality technology to our customers. Therefore, we're going to ship DuoTrac only when we know it's great. Our chips are ready to be cased. We're now just waiting to load in the new firmware.
After about two weeks of rewriting our firmware and loading it in, if all goes well, we'll set in motion the wheels of full production:
Molding and sonically welding the casing permanently together – one week
Software installation – one week
Packing, shipping – two weeks
Our schedule is driven by the firmware, but this doesn't mention the ongoing work on the hardware & software upgrades, packing, and other fronts.
We want to thank everyone for their patience and support. Know that we're pouring our hearts into this project.
Hardware
We are currently rolling all of our improvements into the design for our fourth revision. We're really excited about all that's being accomplished as not only is it very close to the final production version, but our hardware engineers are working extra hard to make the DuoTrac sensors more accurate than originally planned and quicker to process the information with less latency.
Software
Software work is progressing well. We've reached a point where features are being added very quickly. The firmware connection and stability has been one of the biggest delays of our release. We're proud to state that we are now stable and able to smooth out the bugs faster because we now have the stability in our build. So by the time we are ready to ship out your order, you will be all set to get out there and begin swinging!
Manufacturing
Nothing is more important to us than making sure that each DuoTrac 4D kit is as accurate as possible, so every component of the sensors (both aesthetic and functional) needs to be tested and inspected thoroughly and carefully during the assembly process. Even before the sensor components hit the production line, a talented team of Quality Control people inspect each and every component from individual electronic chips to the sensor casing.
The majority of the remaining work is now in the hands of our 2nd manufacturer who's molding and sonically welding the casing permanently together.
BEFORE - DuoTrac Club Sensor Attachment
AFTER - DuoTrac Club Sensor Attachment
Getting DuoTrac in your hands
Through our updates, you can see how we've adjusted to meet the exceptional demand from our customers, and the love and sweat that we're putting into making DuoTrac great now and for the future. We're starting to sound like a broken record, but it is so important to us that DuoTrac works as well as it should. The scale on which you guys made DuoTrac Golf successful has made us take a step back, evaluate where we are, and create our best estimate for a new ship date.
Between now and then, we will continue to conquer each bump and bruise that lays in our path step by step. We will continue with our regular updates to keep you in the loop so that you may share all of our victories and setbacks along the way. DuoTrac has come a very long way. We're excited to share the rest of that journey with you, so stay tuned.
Until Next Time,
Team DuoTrac
June 17, 2016 - Manufacturing & Mass Production Updates
Hey Golfers!
As we mentioned in our last update, we want a flawless product launch! We're working quickly, but don't want to compromise on quality. Since we want to minimize any unforeseen issues during this first run deployment, we are diligently working through many procedures: addressing bugs and fixes now from the feedback we have received from our Beta Testers before we continue forward with our deliveries. We have had some delays in our firmware and software as we have had to work through a few bug related issues with the sensor Bluetooth connectivity.
We'll be sending out the entire first batch to our Kickstarter backers within the next few weeks. We're testing each and every one of the DuoTrac Kits to ensure that there are no glitches or defects. After waiting 1-2 weeks to hear back from all our Kickstarter backers and to work out any unforeseen kinks (given that there aren't any major issues), we'll deploy the balance out to you. There are still some issues we need to work out, but we're glad to say we've made it this far. We apologize for being overly optimistic about our shipment dates. As soon as we are 100% confident we can ship by a specific date, we will announce it right here in our Updates section.
Manufacturing
Planning and scheduling a major manufacturing project is complex. We're working hard to complete the interconnected tasks that make up the production and supply chain process. For all of us, including hardware engineers, software engineers, mathematicians, UI and UX designers on the project, a large percentage of our time is spent testing and calibrating complex algorithms filled with component procedures for PCB Chips, accelerometers & gyros, keeping within dimensions of hardware requirements the size of a pin head and then condensing it all down to a reliable and easy to use app. Not super exciting. That's why we've decided to share the more interesting stuff (photos, video and more!) in updates.
 Tidbits from around the DuoTrac world
Shipping test has been working out well. We sent a few test shipments to test our logistics provider to optimize the process to ensure that packages arrive safely, quickly, and with as few fees as possible to our backers.
We received incredible feedback response from our 500+ iOS BETA-Testers for our beta app. Thanks to all who participated for providing us with such informative insight into how we can better improve our app.
Our iOS and Android app versions are approved! Unfortunately, they won't do anything until you've received your DuoTrac Sensors, but rest assured that the app exists and is patiently waiting for you.
DuoTrac has recently signed on BigBang Golf as its distributor, exclusively in Sub-Saharan Africa. BigBang Golf will also become the Exclusive provider of service and support in this region.
We are air freighting DuoTrac across the Pacific to our US distribution center. It's exciting to see the various states of readiness. It's going to take some time before we reach our maximum capacity, but we're getting there.
One last thing – We apologize for being overly optimistic about our shipment dates. We know the golf season has already begun, but do not fret. Cool perk – DuoTrac can be used anywhere! This means at your office, home, range, or wherever you please! No balls are necessary to take practice swings to receive improvement-driven data. Practice your golf swing all year round at your convenience.
Thanks for the support, everyone!
Team DuoTrac
May 25, 2016 - The Golf Coach In Your Pocket
Hey Golfers!
There's a lot happening here, so let's jump in:
The Golf Coach In Your Pocket
Discover what makes DuoTrac so cool with its newly updated app features including Coaching Drills!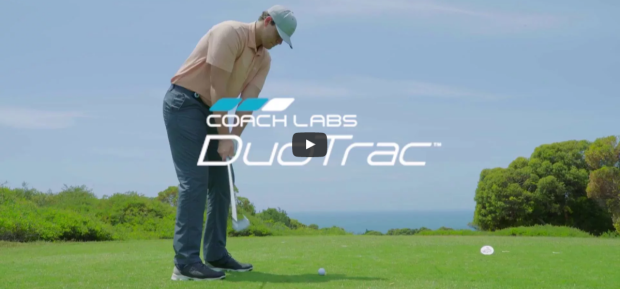 T-Mobile Spotlight - Featuring DuoTrac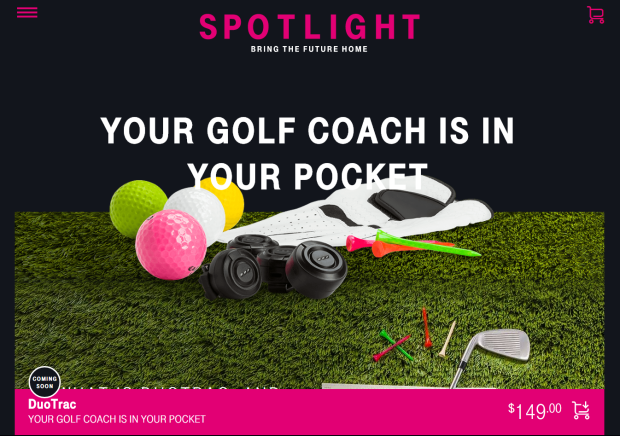 T-Mobile recognizes companies who share in the groundbreaking ideas T-Mobile represents. They have tracked DuoTrac down, admiring our revolutionary technology for breaking the rules and challenging convention! Check us out on T-Mobile's Spotlight!
CONGRATULATIONS BACKERS!
We've SOLD OUT of our 1st production run of 2,000 units!
We are truly thrilled to bring DuoTrac to all of you. We will be dividing our initial wave of 2,000 units into 2 group deliveries. The first group of our initial wave will consist of the 250 backers who pledged DuoTrac at the very beginning during our Kickstarter Campaign!
Foremost, we want a flawless product launch with 100% perfect product going out to our backers, with no defects. While we believe our initial production run to be well designed and performing, it has not been proven in volume production. We plan to minimize any unforeseen issues during this first run deployment through a planned release. This means the first 250 will be shipped out mid-June. Afterwards, we will wait 1-2 weeks with the hope that if there are any issues, we may fix any mass-production related problems before releasing the remaining 1,750 sold-out units, which would happen by approximately August. After we deploy the 1st run, we will then manufacture 5,000 units, releasing and following the same structure.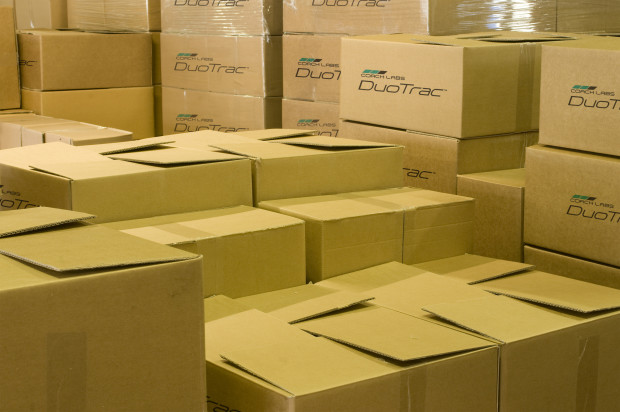 Until Next Time,
Team DuoTrac
May 20, 2016 - DuoTrac Order Is On Its Way
COUNTDOWN TO DELIVERY
The ball is rolling, no stopping it now: DuoTrac is still on track for a mid-June delivery! Thanks backers for all of your patience and support! We are currently in production getting everything ready and set to go for delivery! We will continue to post regular updates about how DuoTrac production and deliveries are doing until every DuoTrac kit within our first wave has shipped. You will receive a tracking number once your package has shipped. We're super excited for you to be the first in the world to welcome DuoTrac home!

 
Apr 28, 2016 - Mini-Update for all DuoTrac Backers
Hey Golfers!
Quick update today, so let's jump right in:
Where is my DuoTrac Kit?
Thank You so much for your support! We will be shipping by June. We have some added features that we want to have in this first release. We are also working to get all the bugs out while the factory is manufacturing the sensors as we speak. We are so excited and just as anxious as all of you. Thanks for your patience while we build you an amazing product.
Where is the app?
The DuoTrac app is currently on iTunes Testflight developer mode. We received an approval for our app over a month ago, but are still making changes to it by adding some additional features before we make it live and free for download. We will keep you posted as to when you can start downloading the app! The Android version of the app will also be available upon release.
If you have any suggestions to make the app experience better with functions you would like to see, then feel free to write to us!
If you haven't done so yet, check out our user-friendly app here:
What's next?
After our first wave of deliveries, we're certain we'll receive lots of feedback, praise, and critiques. We are deeply thankful to all of you for sharing this journey with us by being a part of DuoTrac's first step. We are constantly and carefully listening to all of you in order to continually improve DuoTrac's accuracy and performance.
Feel free to contact us at support@duotrac.com if you have any positive or negative feedback. We're here to develop the best DuoTrac experience for all of our users and would love to hear from you!
That's all for now! Until next time,
Team DuoTrac
Apr 8 2016 - DuoTrac Mass Productions & Quality Inspection Process
Hey Golfers!
Thank you so much for your patience and support as we enter the final stages of the DuoTrac campaign. Your responsiveness has been incredibly helpful.
In The News – Golf Digest
DuoTrac is back in the news once again!
If you haven't seen this yet, Golf Digest did a wonderful coverage piece on DuoTrac, featuring us on their website stating, "Unlike many other consumer swing analysis tools, DuoTrac incorporates not just one swing analysis sensor, but four. The idea is to better capture what's going on at more points in the swing, or more precisely what's going wrong."

Hang in there – we're close!
We are currently finishing up the production on the first wave of deliveries and couldn't be more thrilled with how DuoTrac ended up! We will begin sending out shipments starting June, and those in the first wave of shipments should be receiving tracking numbers from UPS.
Check out how DuoTrac came out!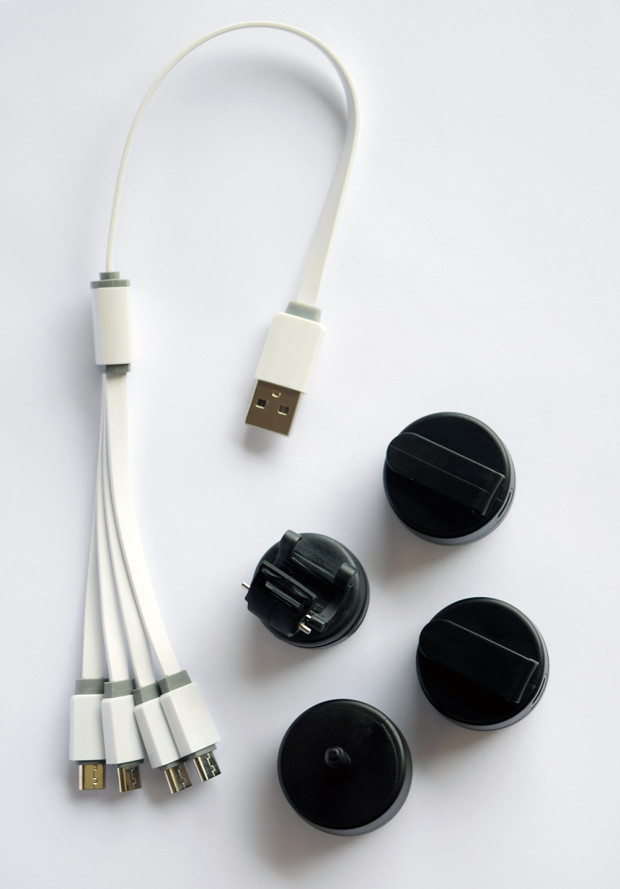 New DuoTrac Feature and Survey
In our last update, we asked you to all select the perfect name for our new DuoTrac app feature platform. The votes are all in and the winner is…LINK UP!
Just as a reminder, Link Up is a new platform within the DuoTrac app that allows you to connect with friends, golfers, and coaches.
We need your opinion again! What we'd like to know from you is:
What do you think you'd find most important to your game and training by using Link Up? Please list in order of importance.
Meet-ups

: Immerse yourself with a community of golfers who want to improve and practice their golf game by scheduling practice times to talk golf and practice. Forget grueling on the range alone and make practice twice as fun with a buddy or two!

Compete for Prizes

: With every swing you take with your DuoTrac, receive in app currency to unlock an assortment of prizes. Players with the most improvement will be selected on a weekly basis to receive awards and prizes for their personal accomplishments.

Play in real-life tournaments

: Show off your training on the driving range onto the field as you put all your training to the test with numerous planned golf events and regional tournaments.

Other

: Your suggestions.
Be sure to spread the DuoTrac word on Facebook, Twitter, Pinterest, YouTube, or wherever else you enjoy posting!
Until next time, Happy Golfing!
Team DuoTrac
Mar 22 2016 - DuoTrac Shipment Updates + New DuoTrac Feature & News
Hey Golfers!
We're firing on all cylinders to get DuoTrac onto your golf clubs!
Got a few things to cover in today's update, so let's dive right in.
Update DuoTrac Shipments
New DuoTrac Feature in Progress
DuoTrac Testimonials
Update DuoTrac Shipments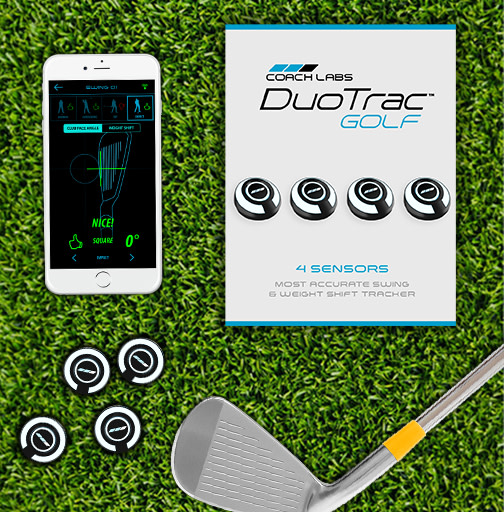 We originally estimated that DuoTrac Golf shipments would be done by the end of March. We're diligently working on the orders right now, but unfortunately, our shipment date has been postponed. We're sorry for not being done yet, but we're close to the finish line.
By July, 100% of orders will be in transit from our factories in China to the United States. Once those shipments arrive we'll process them immediately for a quick delivery for all of our backers.
If you have any concerns about the delivery of your DuoTrac Golf, please email support@duotrac.com.
New DuoTrac Feature in Progress
We're thrilled to announce a new DuoTrac feature! We're still trying to come up with the perfect name for it, so we need you to help us choose once again. Please send us your replies directly within this update.
Choice A: "Link Up"
Choice B: "My Links"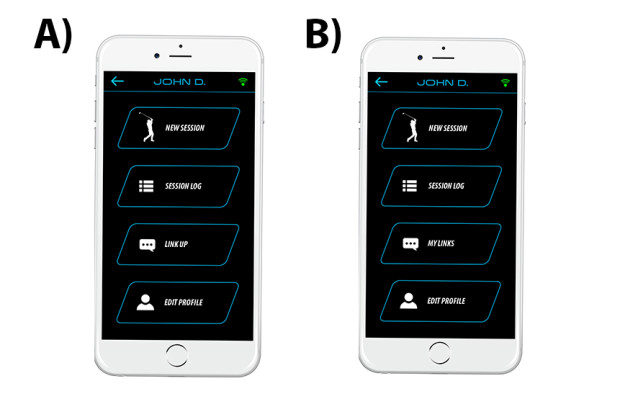 This is a new platform that allows you to connect with friends, golfers, and coaches. Send or receive friend invites, get competitive with other golfers, and seek real-time advice from your coach in between lessons! Coaches can now monitor every student's performance by tracking each swing and sending alerts to remind students of their practice drills. Share and discover valuable game insights from your social community.
DuoTrac Testimonials
We're absolutely thrilled by the flood of positive feedback we've been continuously receiving. Come see what our partner, Curt Menefee, had to say about DuoTrac!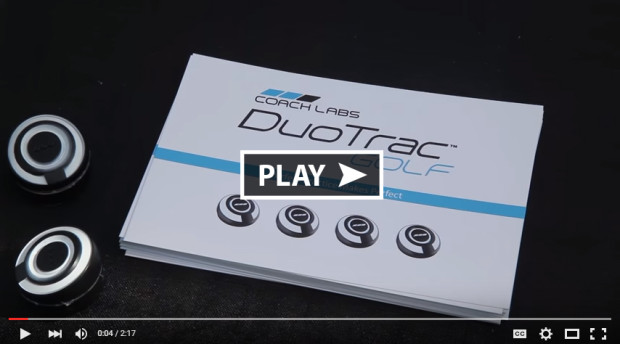 We hope you, our backers, are just as excited about today's announcements as we are. If you know someone who would love to experience DuoTrac, spread the love onFacebook, Twitter, Pinterest, YouTube, or wherever you like to post!
Thank You!
Team DuoTrac
Feb 4 2016 - Exciting DuoTrac Product Update
Hey Golfers!
In this update:
2016 PGA Merchandise Show Success
DuoTrac Hip Sensors Update
Unanswered Backerkit Surveys
2016 PGA Merchandise Show
We are proud to announce that we received a gracious amount of positive feedback from the 2016 PGA Merchandise Show and Demo Day! We are so incredibly humbled and pleased with the response.
If you haven't seen this yet, PGA.com did a wonderful coverage on DuoTrac, featuring us on their website stating, "DuoTrac helps find your best swing through its coaching assistant sensor as showcased here during Demo Day at the 2016 PGA Merchandise Show."
Thanks to all of you who made the trip out to Orlando, FL for the show and stopped by our booth! It was a pleasure meeting some of our beloved backers. We hope you all had a great show!
DuoTrac Hip Sensors In Progress
After consulting and closely collaborating with numerous PGA coaches, we have updated the DuoTrac sensors to attach at each side of your hips instead of your shoes. By attaching the sensors on your hips, we are able to provide more valuable and accurate information regarding weight shift and weight transfer than we would with shoe sensors.
We are rigorously working with PGA coaches, who have been providing a considerable amount of support and feedback along every step of the way to ensure that we deliver a unique technology that surpasses the rest. We are hard away working to enhance the learning experience in the best way possible by providing key information regarding not only your swing, but also the way in which you shift or transfer weight during your swing.
Benefits of Hip Sensors:
More consistent weight shift data
Easier to attach to belt or pants
Promote a more inside swing path opposed to an over the top one, thus, correcting club path
Finalize Surveys
We still have a few surveys that have not yet been completed. We need you to fill out your surveys so that we may be able to access your shipping information. Please complete this ASAP. We will be personally contacting all of you who have not yet done this yet.
Plenty more to come, so stay tuned. Let us know what your thoughts are in the comments below or on Facebook and Twitter!
Follow DuoTrac on Twitter
Like DuoTrac on Facebook
Subscribe to DuoTrac on Youtube
Follow DuoTrac on Instagram
Thank You!
Team DuoTrac
Jan 22 2016 - 2016 PGA Merchandise Show
Hey Golfers!
We are packing our bags and heading out to the 2016 PGA Merchandise Show in Orlando, FL. next week! We're thrilled to announce our attendance!
DuoTrac Golf will be unveiled at Demo Day and the 2016 PGA Merchandise Show held in Orlando, FL. The PGA Merchandise Show is golf's leading event for PGA professionals & golf industry professionals to gather and discover the latest trends in golf equipment, technology, apparel and accessories. With this exciting news, we have been hard at work and are ready to unveil DuoTrac to some of the top players and industry leaders in the field of golf. We invite all of you golf lovers and professionals to join us and experience DuoTrac Golf firsthand!
If you plan on attending the event, please stop by and say hello! We will be located in the New Product Zone at Booth #1780! We would love to meet and thank you all in person!
We thank you for all your support!
See you at the show,
Team DuoTrac
Jan 21 2016 - We have a Winner!
Hey Golfers!
Thank you all for taking the time to complete the survey.
We have a winner! The votes are finally in! You have decided on the future package design of DuoTrac Golf. We asked you to select your favorite package design and the winner is...
Package Design A
Thank you for your continued love and support! We can't wait to deliver you DuoTrac!
For those of you who have not yet completed the survey, please do so at your earliest convenience. We need everyone to complete the survey so that we may have all of your addresses in time for shipment in the spring.
Thanks,
Team DuoTrac